About Savio Designs
Savio Designs started as a simple hobby, creating websites for friends and family. With the growing frustration that is had by designers and companies not following through with their promises, particularly to those just starting out, a need was seen to cater to those who are starting out in the website world. We focus on Small Businesses, Non-Profits, and Entrepreneurs, giving them the tools they need, at a great price, without up selling them on "extras" that they don't really need or would never use. We also combine our years of experience in Desktop Publication Design, Graphics, and Video to deliver most anything you might need. Though we are based in Los Angeles, we have a team of highly skilled designers, programmers, and artists from all over the world to deliver the results you want at the price that can't be beat! Give Savio Designs a try and make your presence known! Contact us for a free quote or to discuss your project, we are passionate about helping you achieve your identity in web, print, video, and apparel!
Moral Clause
One of the frustrations of many companies is that they take on projects outside their skill set or market. We are committed to focusing on the small business, non-profit organizations, and entrepreneurs. Because of this, our focus is on the simpler sites and projects. While we are able to integrate a broad range of features, we will be upfront and honest if your project is outside our scope of expertise. We want you to be fully satisified and we do not want to make promises we can't deliver!
Also, while there are many companies who will take on projects of any material, Savio Designs is deeply committed to promoting work that benefits humanity. Therefore, we will not work on any project that violates or degrades the dignity of the human person. These projects include, but are not limited to projects that support abortion, euthanasia, capital punishment or pornography.
Company Name/Logo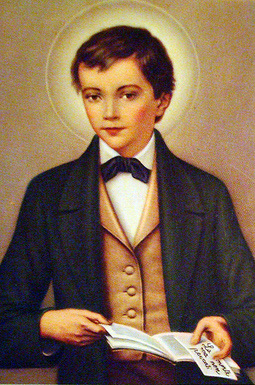 Our company is named after St. Dominic Savio, a boy who died short of his 15th birthday, yet was an incredible voice and witness to the world. Our mission is to allow the voice of the small business, non-profit, and entrepreneur speak out to the world as well. The red orb in our logo is symbolic of the world, while the swoosh is a symbol of the halo--together we can let your voice and message speak out ot the world!